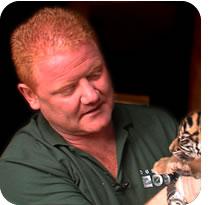 Gerry Creighton
Zoo Operations Manager
Fabourite Animals
All of Them
Time at Zoo
26 Years
How did you become a zookeeper?
I'am a second generation zoo keeper and have been around the zoo since I was a boy.
How long have you been working in Dublin Zoo?
26 years
What kind of animals do you take care of?
I'am operationally responsible for all of the animals, but I spent many years working with the big cats and elephants.
Which are your favorite animals in the Zoo?
All of them!
Do you have any pets at home?
No, my 3 year old daughter Mia keeps me too busy, but I recently got Mia a pony.
Can you tell us one of your most exciting moments in the Zoo?
I have many happy memories but the birth of the first Asian elephant Asha was an amazing experience.
What do you love most about your job?
I'am very proud of Dublin Zoo's participation in breeding endangered animals, and the birth of any animal here is special.
What's the most difficult thing about your work?
I guess its always sad when a animal dies that you may have taken care of for many years.
When you're not working in the zoo, what other hobbies or interests do you have?
I have a wonderful daughter that takes up all my time and her favourite place is Dublin Zoo.