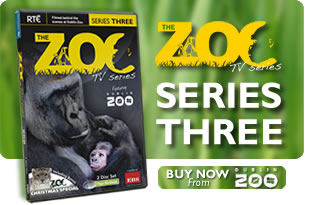 Episode Guide
Season
Three
Episode
Eight
This week in the Reptile House Garth introduces the gila monsters. It's the start of the breeding season and at this time of year these highly venomous lizards can get a little boisterous with each other. Garth tends to their wounds and introduces us to these fascinating creatures.
Susan is delighted to discover that Angelina the red panda has successfully given birth to two adorable cubs and is warming quickly to her new role as protective mother to the two furry infants.
There's a lot of activity happening on the macaque island, and it's now home to a number of playful young monkeys. To keep an eye on their health and well-being, it's important that Dublin Zoo perform some simple health checks, but first keepers Ciaran and Yvonne are going to round them all up.
Honey, a rare Indian black buck antelope, is pregnant. Zookeeper Alice is watching her progress very carefully and, if all goes well, Dublin Zoo is hoping the new arrival will share the Kaziranga Forest Trail at Dublin Zoo with the herd of elephants that live there, just as they share a habitat in the wild.