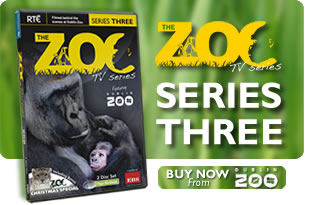 Episode Guide
Season
Three
Episode
Nine
The tiny pygmy marmoset baby has been doing well under Susan's watchful eye, but it's still at a delicate stage in its development and requires round the clock care. We join Susan in her home as she gives the little primate a night feed.
Kasi the white-crowned mangabey has been growing bigger and stronger by the day and has even made some new friends amongst her troop. With things going so well, Helen feels the little monkey is almost ready for her full reintroduction.
Brendan the zookeeper takes his love of gorillas to the road and goes in search of gorillas in the rainforests of Africa. He keeps a video diary from the heart of a Ugandan forest where he is preparing for the most thrilling encounter of his life, meeting gorillas in the wild...
Eddie and his team have their hands full on Family Farm when Dublin Zoo's Tamworth pig gives birth to a litter of 9 piglets. There's good news on the African Plains too as Helen and John are delighted to discover a litter of Red River Hogs have been born overnight.