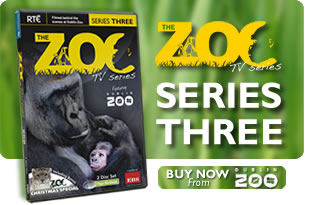 Episode Guide
Season
Three
Episode
One
Garth has a hairy encounter with one of the Reptile House's creepier inhabitants, the Chilean Rose Tarantula and the deadly spider demonstrates its incredible hunting techniques on an unsuspecting locust.
When a baby white crowned mangabey is rejected by its inexperienced mother, the keepers decide to step in and take care of the little one until it can be reintroduced to the rest of its troop. In this episode, team leader Helen takes the little one home to hand raise it herself.
The new Gorilla Rainforest is finally ready for its new inhabitants. Horticulturalist Stephen introduces us to the many plants and flowers he has sown to create the right environment for the gorillas, while Ciaran and his team prepare the gorilla family for the biggest move of their life.