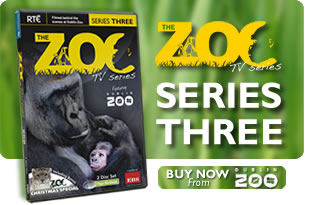 Episode Guide
Season
Three
Episode
Two
The big day has finally arrived and Dublin Zoo's gorilla family are moving in to their new rainforest home. But how will they take to their new habitat? We follow them as they take their very few steps into unexplored territory.
After several weeks of home care and motherly attention, the little white crowned mangabey is ready to begin the reintroduction process so she can rejoin the rest of the mangabey troop on their island home.
There's a baby boom in Family Farm! Team Leader Eddie introduces some of its newest inhabitants, from rabbits and goats to beautiful twin new born lambs.