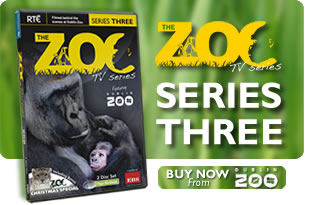 Episode Guide
Season
Three
Episode
Four
A new female red panda moves to Dublin Zoo, so it's an exciting time for Dublin Zoo's solitary male. When the big day arrives he looks a little shy and more than a little wary of his new partner, but will his curiosity get the better of him?
The highly anticipated hippo calf is finally ready to be born in Dublin Zoo. But it's a tricky setup for the keepers. These enormous semi-aquatic mammals like to do everything in the water, including giving birth.
Sandy the giraffe is getting ready for an important journey. She is a favourite of team leader Helen and has a big place in zoo keeper John's heart after hand-raising her himself, so it's a bitter-sweet mixture of emotions as they set out with her to Belfast to bid farewell to their old friend.