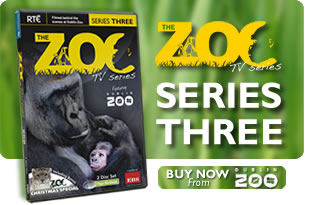 Episode Guide
Season
Three
Episode
Three
One of the zookeepers notices that some of the red-ruff lemurs appear to be losing clumps of hair. Gerry calls in the vet to investigate the mysterious hair loss, but first the keepers will have to round up these beautiful tree-dwelling creatures.
Hippos Henry and Hoovie have lived together for many years in Dublin Zoo, but the time has come for Hoovie to move on and find a different mate. It's a sad time for Henry, until he meets his new companion that is. We watch them as love blossoms and the keepers cross their fingers and hope for the greatest news of all, a baby hippo.
When a new group of female meerkats arrive from Belfast and a young male from Wales, team leader Eddie and his team are keen to see the new group will get on together. He introduces us to these fascinating creatures as they take their first steps into their new habitat.